The first DUI arrest for 2012 was a 77 year old man. On January 1st, 2012, around 12:29am, Officer Kyle Fleming spotted a maroon Dodge Stratus traveling on Madison Street without its headlights on. Officer Fleming stopped the vehicle and upon initial contact with the driver noticed the driver, Roy Young, had slurred speech and slow to respond.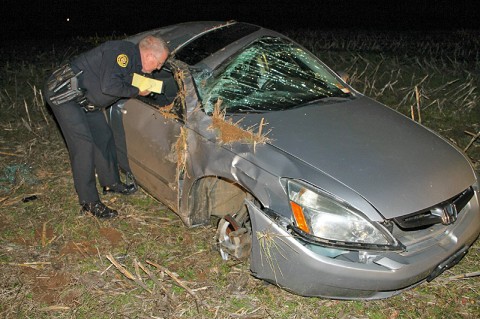 Clarksville Police Officer Tom Johnson investigates the crash scene. (Photo by CPD – Jim Knoll)
When Officer Fleming checked the status Young's license, he found that it was suspended. Young was asked to step out of the vehicle and perform field sobriety tests which he performed poorly.
Additionally, Roy Young told the officer that he had only drank one bear but had been smoking marijuana for the past two days and when he was stopped, he was headed to the ATM to get money for more marijuana.